Today we explore a few places around Lake Mývatn (because so many Icelandic names include the word for "waterfall" or "lake" or "mountain" in the name I am be constantly making the chai-tea faux pas). And furthermore, we are going to strictly stereotype Iceland and only see things related to geothermal activity or waterfalls today. So our first stop is Hverir, the geothermally active region at the base of the Namafjall mountain (chai-tea again). As we descend down the pass over the mountain we see steam rising from the fumaroles half a mile away. Soon the smell of farts is strong enough to make Evan gag. I repeat my old central Texas joke about hydrogen sulfide laden air:
How do you know you're driving through Luling, Texas? You roll up the windows when someone farts.
Something about the abundant smell of farts makes everyone act like a child. We laugh wildly as we run from one bubbling mud pot to another.
Evan is distinctly taller than both Vivian and Jo (not much of a feat), and is close to catching up with me (not a feat either). But you can see Jo trying to push Evan down in the photo above so he doesn't look taller. Eventually we tire of fart jokes and we drive a few miles north to Krafla. Along the way we see the Krafla geothermal station. Steam at high pressure from about two dozen boreholes are fed into two turbines at the station to generate electricity. The Krafla power plant is Iceland's largest geothermal power plant and provides about half of Iceland's entire residential power needs. Construction of the power plant was interrupted by an active lava flow during the 1975 swarm earthquakes. One of the boreholes holds the world record for producing the hottest steam (430 degreed C), supposedly because it is so close to the magma. I'm thinking we're pretty darn close to magma even up here on top.
A by-product of the power station that is more famous than the electricity it produces is the Douche Perpétuel. No, not The Donald. This perpetual douche is a shower beside the road next to the power station that always has warm water coming out. There is no faucet to turn it off. People often pull up and park and strip and shower right here. There is no one today and we don't stop for a photo, but I have linked to See and Savor's photo from her blog.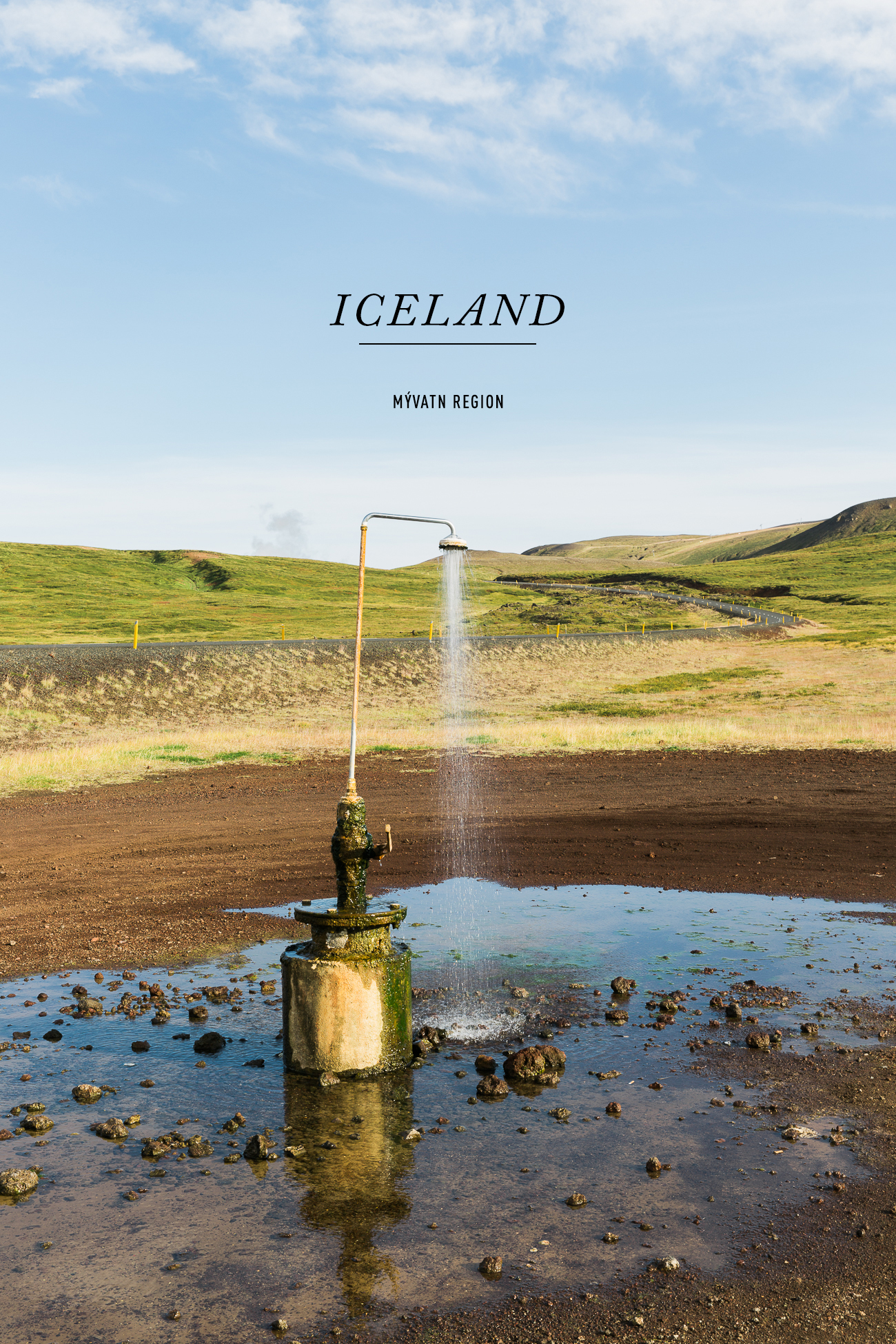 We drive past the Douche Perpétuel and under steam pipes at the geothermal station to where lava flowed during the 1975 activity. We park and walk across about a mile of lava rock to a small pale blue lake that is gently steaming. Further to the west we see the extent of the lava flows. Black fresh lava rock covers many miles of low-lying land, rising up around the edges of hills and nearby mountains. Steam emerges from fumaroles though it doesn't smell half as bad as it did down in Hverir. Or perhaps I am desensitized to farts.
On the other side of the Krafla flows is a crater lake with the bluest water. There is a path around the rim of the crater – if you look carefully there is a long line of people just over Jo's head. We drive back down the way we came, past another older geothermal power station and another very blue lake.
Then I need to join a zoom for work for an hour. I put on my headphones and zone out. My phone's signal is good enough to carry on a video zoom with several people scattered around the US while Jo drives us to our next destination, conveniently just over an hour away. When I finish my meeting I find that Jo has taken one of her famous shortcuts and we in the middle of nowhere. We are on a narrow remote dirt road. A few minutes later we turn up into one of those dreaded F-roads, but just for half a mile. We park and walk the last mile and arrive at one of Iceland's most dramatic and remote waterfalls – Aldeyjarfoss. The Skjálfandafljót river ("the river of trembling rapids") gushes out of a barren rocky moonscape down twenty meters of basalt columns into a churning cauldron of seething water before making a right angled turn and flowing on downstream.
We stay and enjoy the stark beauty of Aldeyjarfoss for a while. Then we drive downstream along the Skjálfandafljót river on to another one of Iceland's famous waterfalls, Goðafoss. There are tour buses and paved trails here and we descend to the level of the river below the thundering falls. According to one story, this is where the law speaker of the Icelandic parliament threw his pagan idols away after Iceland converted to Christianity. So, God Falls.
We stop at the Netto in Húsavík on the way back. I am amazed how well stocked these small grocery stores in this tiny places are. There are more spices and Indian and Thai food on the shelves than at big chain grocery stores in Falls City, Nebraska or Hiawatha, Kansas (I only compare with these because I am somewhat familiar with them). And there is Stubb's barbecue sauce all the way from Austin! We pick up some fresh North Atlantic salmon and head back for our last night at Svartaborg.