Aloha. Vivian gets two weeks off for spring break. Evan gets one week. I get zero. So Jo and Vivian went to Maui for the first week and joined Evan and me for a second week at the Big Island. The girls had a great time in Maui. They stayed at Neela Masi's house in the upcountry (who was cruising South America at that time), and had their own adventures, including getting locked out of their car due to some kind of fob malfunction in near freezing temperatures at the Haleakala crater at 10,000 feet after sunset. But they survived and met Evan and I when we landed in Kona just in time to witness a stunning sunset on a Friday evening. We spent the next very fun 9 days together. I dare say the middle-years slump is over and it is again great to travel with the offspring.
We grabbed a quick substandard Chinese dinner near Kona airport and headed off into the darkness of the highway connecting to the Hilo side. Somewhere between the snow-dusted peaks of Mauna Loa and Mauna Kea we parked on the side of Saddle Road and stepped out and stared and stared at the night sky. It is nothing like we see here in Austin. There are no dark spots. Look long enough at any patch of sky and you'll eventually find it filled with twinkling stars and galaxies and glowing nebulas and perhaps a star that went supernova.
We started off staying on the Hilo side, visiting the farmers market and snorkeling with turtles in the little rocky beaches north of Hilo airport. One morning Jo waited in the car while Evan, Vivian and I ran into the Big Island Candies' giant store and ten minutes later we returned with a shopping bag full of chocolate delicacies and a rather impressive bill. Jo and I usually awoke at dawn and walked, she with her folding chair, me with a cup of Kona, down the street next to Kahakia park and watched the sun rise over the Pacific while the waves crashed on the house-sized boulders below. After breakfast one morning we visited Volcanoes national park and hiked through the muddy puddles in the dark and cool Thurston lava tube, and past the bellowing steam vents on the rim walk while peering hopefully at the Kilauea crater which had been spewing lava till just a few days ago. We drove up to the volcanoes observatory that had been damaged during the latest eruptions and is now closed. Many years ago, Vivian was enchanted by a painting of Pele the Goddess in the entranceway of the observatory. Jo had fashioned Vivian's halloween costume one year based on that painting (Evan had been the other Pele, from Brazil).
We walked down into the much smaller (and much more dormant) Kilauea Iki crater and hiked through it up on the other side, stopping to pick lava rocks that should have weighed fifty pounds but were almost as light as feathers. Then we drove down the Chain of Craters road, stopping like the jaded tourists we were, to look at only the best craters. I was planning on driving out to the Muana Ulu lookout or as far south as the road would take us but we were soon swallowed up by a late morning fog that reduced visibility to a few hundred feet and turned the lava – duh – grey, so we turned around and headed home.
One day we drove for hours out to a the Isaac Hale park. The roads to it and the park and beach itself have been altered by the 2018 lava flows. In places it looks like an alien landscape – with fresh tarmac laid between miles and miles of desolate black and grey lava rock. And then you drive past a small island of greenery that the lava flowed around and spared. The coastal road is lush and green mostly with occasional pullouts where locals had parked their trucks and kids were playing in sandbox sized beaches. There are sections where the trees form a tunnel above. I didn't get a photo of that so I have included a link from the internet above (which may disappear without warning).
We spent the next few days on the Kona side, driving through the small towns along the coast from South Point all the way to the Waipi'o valley. We drove to the end of the road at South Point and walked down to the Kaulana boat ramp which was busy with boats and their extra long tow attachments. Jo and the kids sat on a big bleached driftwood log and enjoyed the view while I decided to walk part of the way to the Papakōlea green sand beach. I gave myself 30 minutes, after which I was going to turn back. I practically ran so I could cover as much ground. Along the way I passed several locals hawking rides on their pickup trucks warning me that it was a six mile roundtrip. There were a few people who were walking, though most eventually hopped into the trucks. The scenic dirt path by the ocean alternated between very pointy rocks and ankle deep yellow dust. I passed a couple who were walking back from the beach. A few minutes later my 30 minute timer went off, and I turned around and started walking back. I passed the same couple, this time going in the same direction. We said hello again. Then I noticed they were staring at my feet. They were both wearing light hiking boots. I was in my flip-flops. The woman finally said "My husband was marveling how fast you are walking in your flip-flops." Then she smiled guiltily and added "He said you Hawaiians are probably born wearing flip-flops". It was fun to tell her that I had been in Hawaii for precisely three days.
We tried to go to Manini beach where the kids spent many an hour when they were tiny but it was full. It is a secluded beach and tourists like us don't usually get all the way down there, but this was spring break week in Hawaii too and everyone was out. We tried to find the house up the street from Manini beach where we spent two different memorable vacations, but the whole area looks quite different. The shave ice place where we had celebrated Evan's second birthday with a huge shave ice in lieu off a cake is now a kayak rental place. One of my favorite places near Manini is the Pu'uhonua O Honaunau National Historical Park (it's a mouthful) – an ancient place of refuge for injured warriors or those fleeing the Hawaiian belief system of Kapu. It is a magical place of stone and sand and calm waters and tall coconut palms and 17 foot wide ancient rock walls and on my third visit here I am happy to say it felt just as magical.
Our favorite bbq place, Big Jake's Island bbq, was closed because the owner was out for knee surgery. We met a semi-local (spends six months in Kona and the other six in Colorado) who sent us to Foster's Kitchen in old Kailua-Kona for dinner ("y'know the place – where Rosa's used to be – upstairs from the beach volleyball courts") and we had a good time.
The precarious road down Waipi'o valley was closed due to "damage" to all, even pedestrians, unless you were a local – which put me in a bad mood because I was so looking forward to walking down into the valley which is my favorite spot on the Big Island. We have two sets of kids photos from different ages from the lookout on top and I asked Vivian and Evan to lean in so I could add to that collection and they rolled their eyes. Already being in a huff from the road closure, I went off and enjoyed the view on my own. I must say it looked great without them in it : – ) Assholes. Tex's malasadas were just as huge and delicious as we remembered them. The pizza place (and many other restaurants) in Honokaa looked like they hadn't made it through the pandemic.
One morning we went down to the Kahalu'u beach park. Vivian and Evan joined a couple of other kids for a surf lesson. Jo and I walked to the back of the white and blue painted wooden toy-like St. Peter's Catholic Church and sat on the stone wall and watched them attempt to stand on their boards and ride the surf. They managed enough to give them a head start the next time they try again. Then I snorkeled the bay and it was amazing. It is much shallower than Kealakekua bay at Manini beach or Honaunau bay at Two Step beach but the sea life was very good. The corals are mostly bleached but a few seem to be making a comeback. The park has stewards who help people learn not to step on the bottom and to use a less poisonous sun screen, so may be things will get better.
We also spent some time at Hapuna Beach. Jo got us a room at the fancy hotel there for one night, and we drove up and use the public beach access another time. We love this beach. Evan had a diaper blowout on this beach 11 years ago while Jen fell asleep after a few drinks. One morning at sunrise Evan and I raced on the beach. Evan gave me a 30 m head start and then sailed past me in another 50 m. We measured his stride in the sand – it is longer than he is tall. So now both my kids can officially outrun me.
Remember I said I got zero weeks off for spring break. My team was very accommodating. There was a lot to get done, and I got on Zoom for the first meeting at 8:30am in Austin – which was 3:30am in Hawaii. By breakfast time in Hawaii when the rest of the family was stirring, I had usually finished a very productive five to six hour workday. Often I caught a nap in the afternoon, and if not, there was good coffee to be had. On the whole, this was an amazing vacation and a busy work week. I really did get the best of both.
Jo booked us a night manta ray snorkel. On our last night, we drove down to the boat docks at Honokohau marina. There we wiggled into wet suit tops and took a windy 45 minute boat trip down the coast. They threw a mat with a bright LED light into the water and chummed the water with plankton. The mat had a PVC frame around it and we held in to the frame with our hands and kicked our flippered feet behind us, looking downward through our snorkel masks. Moments later we were rewarded with the sight of giant manta rays. The biggest – Big Bertha – has a 15 foot wide wingspan and weighs over 1500 pounds. The mouths on these things are wider than Evan. They swim straight up towards the surface to the light, mouths gaping open, sucking up plankton laden water. Just as they almost break the top they flatten out with their bellies upwards and then summersault back down for another loop.Their mouths are inches from our faces. Their wingtips occasionally brush us, though we are warned to not touch them. We enjoy this spectacle for almost an hour. I don't have any pictures of this adventure, but I've linked one from the internet (it may disappear without warning).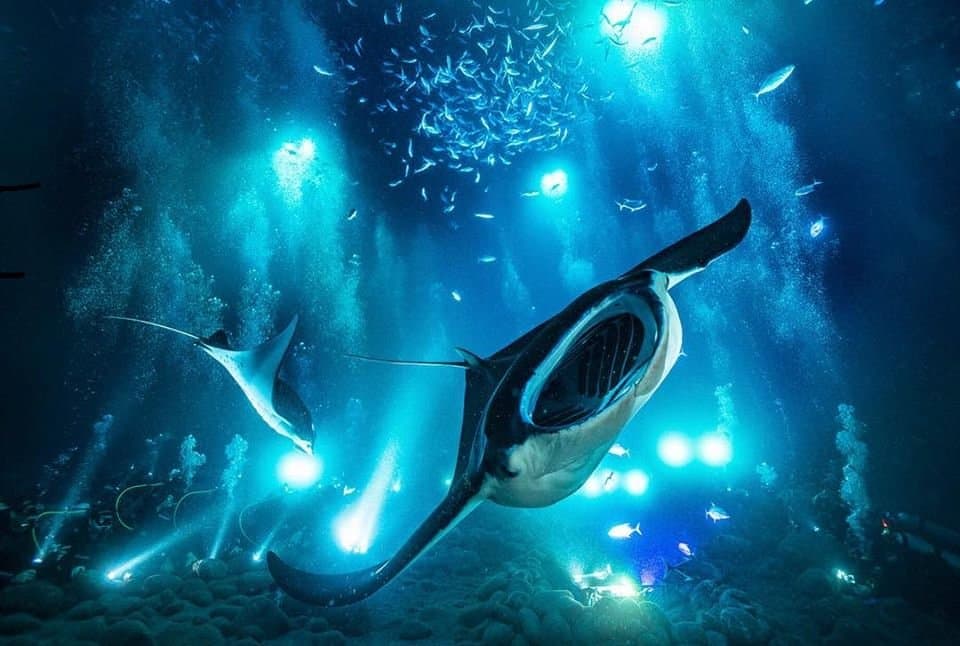 Then, cold and wet but filled with wonder and amazement, we retrace our trip back. By midnight we are showered and in bed. Our alarms go off four hours later. We see the sun rise over Hualalai volcano as our plane taxis down the runaway. Before midnight, with one stop in Las Vegas, we are back at our white wooden house. Mahalo.